What we do

The expertise of over 10 years has resulted in the Bioenergy differential with the complete mastery of the entire energy production cycle performed within an integrated business model. It allows all operations to be performed in a consistent, structured and objective way, thus allowing for a greater return of investment.
In order for the model to have its optimum performance it is necessary to rely on other factores of management and knowledge. Among them stand out the shortest operating cycle, which reduces time for return of investments, the high capacity of generating projects with a wide range of business opportunities, in addition to geographic diversification, exploring the best areas for implementaton and operation.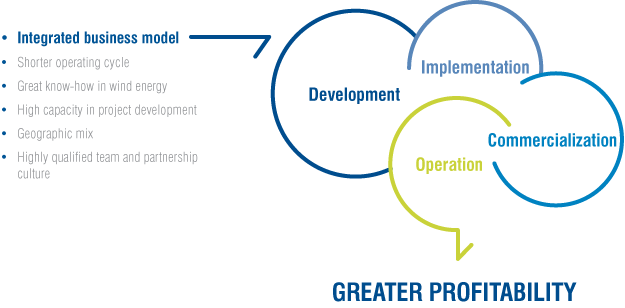 Our Operations
In every project of power generation, the first step is to conduct an extensive exploration work and to identify areas appropriate for deployment. Next, studies are promoted, projects are prepared, the commercialization model is developed and the licensing is executed with the competent organs. After that, proceeding to the implementation, operation and maintenance phases.
Each process is treated by specialists, with maximum efficiency to ensure the success of operations.

Meet each one of these phases and their main steps.
1. Development
• Identification of Sites
• Environmental Permitting
• Measurement Campaigns
• Approval and Legal Permissions
• Analysis of Technical and Financial Viability
• Production Modeling
2. Commercialization
• Identification of Potential Customers
• Energy Supply in ACL (free contracting environment) and ACR (regulated contracting environment)
• Negotiation Strategies
• Contracts and Load Modeling
• Definition of Future Price
• PPA
• Representation Before the CCEE
3. Implantation
• Management of Installation
• Basic Projects
• Executive Projects
• Operational Management
• Minimizing Environmental Impact
4. Operation and Maintenance
• Maintenance Management of Wind Turbines
• Management of Maintenance of Substation and Transmission Line
• Availability and Equipment Performance Control
• Control and Record of Production
Bioenergy is focused on innovation and results.
Due to its high capacity to generate projects aimed at the optimization of investment and profitability, the company has reached the milestone of 2215.8 MW in its energy portfolio, divided among 63 projects.
With sales of 602.8 MW, Bioenergy stands out for its 4th place among the largest wind power action sellers in Brazil.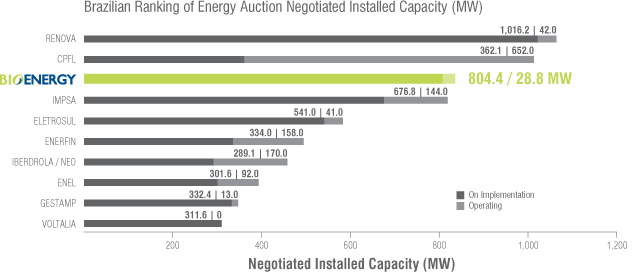 In a favorable scenario, clean energy has finally entered the Brazilian energy matrix. Visualizing the future, Bioenergy seeks a steady growth and results that are more and more positive, with prediction of over 1 GW of installed capacity by 2015.